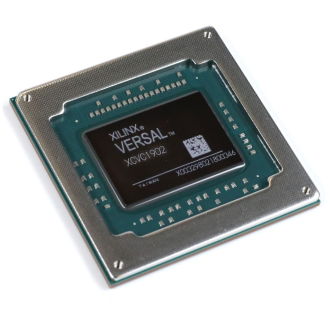 Miami Ultra
The Miami Versal System on Module (SoM) is an embedded computer board, integrating all key functionalities to deliver a complete computing system, running e.g. Linux or FreeRTOS. The modules are based on AMD System on Chip technology, using Versal® ACAP devices. With their efficient footprint and high reliability, they form an excellent platform for compute-intense and AI/ML centric applications.
Compute-intensive and AI/ML centric processing

MPU/CPU/AI processing cores and FPGA on a single board

High reliability and quality
Key features
AMD Versal ACAP based System on Module
ARM Cortex-A72 dual core processor
ARM Cortex-R5F dual core lockstep processor
AI Engine tiles for accelerated neural network processing, beam forming, convolutional signal processing, etc.
FPGA fabric with at least 16 pairs of GTM (58Gbps) and GTY (32Gbps) transceivers, DSP cores, BRAM/URAM slices and LUT-based logic
Rich pool of hardened peripherals, like 100Gbps Ethernet MAC, PCIe GEN4/5, video CODEC, crypto engine, etc.
On-board PHYs for USB3 and Ethernet
Integrated 72-bit wide, 4GB DDR4 memory and 64MB QSPI NOR (boot)flash
Extensively tested: EMC/EMI, temperature, humidity, shock, vibration
Small footprint with high-quality Samtec carrier board connectors for power and I/O signals and up to 50Gbit/sec differential signal links
Interesting? Ask for more information
Product description
The Miami Versal SoM integrates all system components that are required to bring a computer board to life, including memory management, power supply control, debugging facilities and various connectivity options. The Miami SoM provides best-in-class platforms for balancing performance and power. The platform is especially suitable for e.g. optical object recognition, LIDAR and RADAR based low-latency obstacle detection and phased array ultrasound applications. These applications require effective processing power, high speed communication and forms of artificial intelligence or machine learning. The SoM enables you to customize system interfaces and perform real-time signal acquisition and processing. It comes with a TOPIC supported Linux distribution, including a reference FPGA design and is compatible with all AMD provided development software. The Miami Versal SoMs can be evaluated using our Florida development kit, forming a powerful prototyping platform.
Lead-customer invitation
At this moment, the developments of the Miami Versal are commencing to meet the early production silicon delivery dates of AMD/Xilinx. TOPIC has good experiences involving lead customers in the specification and engineering process to defines a generic and well-defined product. We invite you to become a lead customer for the Miami Versal and benefit by influencing the product specification and a life-time cost benefit.
Florida development kit
The Florida carrier board is especially designed to support Miami System-on-Modules. With a Florida carrier board, you can evaluate the capabilities of the AMD Versal® ACAP based Miami System-on-Modules (SoM) in combination with a rich pool of peripherals. The setup helps you to kick-start your target application development giving access to the complete feature set of the Versal® ACAP processor in combination with the provided high-quality Linux board support package. The Florida development kit is a combination of a Miami Versal SOM, the Florida carrier board, power supply and other materials to kick-start your development. The development kit is delivered with software and FPGA reference designs, schematics and PCB layout as an inspiration for developing your own carrier board. TOPIC also offers as a development service the customization of the Florida carrier board to your specific needs, including updating the embedded Linux BSP with specific driver support. For technical details, please contact TOPIC at contact@topic.nl.
Tell us your needs and receive information