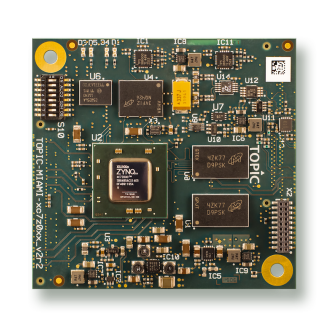 Miami Zynq
The Miami Zynq System on Module (SoM) is an embedded computer board, integrating all key functionalities to deliver a complete computing system, running e.g. Linux or FreeRTOS. The modules are based on AMD System on Chip technology, using Zynq®-7012S/7015/7030 devices. With their small footprint and high reliability, they form an excellent platform for media centric applications.
Effective performance/watt ratio

High speed links for data and video interfaces

High reliability and quality
Key features
AMD Zynq-7000 based System on Module (7012S/7015/7030)
ARM Cortex-A9 Dual or single core 800MHz processor
FPGA fabric with 4 pairs of gigabit transceivers, DSP and BRAM slices and LUT-based logic
Small footprint with 2x high-quality Samtec carrier board connectors for power and I/O signals
Integrated 32 bit wide, 1GB DDR memory and 32MB NOR (boot)flash
Extensively tested: EMC/EMI, shock, vibration, temperature and humidity
Customizable, voltage programmable and industrialized I/O capabilities
Interesting? Ask for more information
Product description
The Miami Zynq SoM integrates all system components that are required to bring a computer board to life, including memory management, power supply control, debugging facilities and various connectivity options. The Miami SoM provides best-in-class platforms for balancing performance and power. It offers a perfect solution for applications requiring gigabit transceivers for PCIe connected NVMe M2 SSD, HDMI/MIPI/Display Port video and QSFP+ connected communication.
The SoM enables you to customize system interfaces and perform real-time signal acquisition. It comes with an TOPIC supported Linux distribution, including a reference FPGA design. The Miami Zynq SoMs can be evaluated using one of our Development kits, which are a powerful prototyping platform.
Tell us your needs and receive information